ShopCLA is a resource for the library community to order publications. We have access to many ALA titles found on their website. See below for sampling.
Ordering Instructions
To order publications found on this page or on the ALA website please email orders (at) cla.ca your purchase order. If you have a account with us already please include this number within the purchase order document. All questions and concerns must be directed to orders (at) cla.ca. We thank you for shopping at ShopCLA!
Ordering from the Graphics Department?
To order ALA posters, bookmarks or graphic related items, please visit www.accessola.org/web.
Additional information 
Your order will be processed within 3-5 business days. If the item is in stock it will be shipped shortly. ALL out of stock items will take up to 3-4 weeks to process and will be shipped within 3-5 business days as soon as they arrive to our facility.
Orders placed on or after April 06, 2016 will be final sale and returns will not be accepted due to the pending dissolution of the organization. We apologize for any inconvenience.
---
NOW FEATURING
---
Canadian Copyright in Schools and School Libraries
Author: John Tooth
Softcover
ISBN 978-0-88802-345-2

Price: $39.95
Canadian Copyright in Schools and School Libraries addresses copyright issues that typically arise in those educational settings.  The author's goal is to provide some direction to help school staff across Canada answer copyright questions in their daily work. This publication offers some focus for the reasonable handling of copyright issues based on legal interpretation and case law.
John Tooth is a professional librarian and educator with an MLIS from the University of Western Ontario, an MEd and PhD from the University of Winnipeg.
After a brief retirement, John accepted a position as Copyright Officer and Head of the Copyright Office for the University of Winnipeg Library beginning in October 2012. Prior to this, he was coordinator of the Instructional Resources Unit of Manitoba Education, and served as the copyright consultant for the Department and for schools for some 35 years.  He now undertakes education and copyright consulting work.
John has worked on copyright agreements/tarrifs at the provincial and national levels, written on copyright issues, presented locally an nationally on copyright concerns, advocated for copyright reform through the Canadian Library Association's Copyright Advisory Committee and as the Manitoba representative on the Council of Ministers of Education, Canada, Copyright Consortium, and addressed user questions about operating in Canada's confusing and highly interpretative copyright world.
John is not a copyright lawyer, but rather an active participant in the copyright debate working with and learning from the library, education, and legal professions specializing in copyright, from other copyright neophytes, and from answering endless great questions asked by inquisitive and confused teacher-librarians, other school library staff, and school administrators.
Reviews
Anita Brooks Kirkland, MLIS, said:
"Copyright is a complex topic, and the copyright landscape for educators has changed drastically over the past few years. Educators are also frequently confused by American copyright laws and practices, inundated as we are with advice from south of the border. With John Tooth's new book, we finally have a comprehensive Canadian resource to guide educators in every aspect of Canadian copyright."
Judith Sykes, School Libraries Advisory Committee, said:
"As a vibrant companion to the most current Copyright Matters (3rd Edition), copyright authority John Tooth provides a concise, expertly written interpretation of print and digital copyright law for Canadian schools in clear and easily read prose using examples familiar to schools to enhance understanding."

---
Want to know more about the book? Click here to see a video of John Tooth speaking about his book!
---
IN STOCK
---
The ALA Guide to Information Sources in Insurance, Risk Management
Author: Lucy Heckman
Softcover
ISBN-13 978-0-8389-1275-1

Price: $ 95.00
The insurance industry is among the most highly regulated industries today, and literature on the field is a complex thicket of sources. This valuable, one-of-a-kind resource is a comprehensive guide to locating and using information resources about the insurance industry. Pointing researchers, practitioners, faculty and students of business administration, law firms, and anybody interested in researching the insurance industry to the most relevant information, each chapter contains an annotated list of specific print and digital sources, plus explanations on how to make best use of sometimes-forbidding technical materials. Included are company directories, almanacs, databases, websites, legal resources, and industry-specific guides that cover
All major lines of insurance, including property/casualty, life, health, and reinsurance
Social Insurance, including Social Security, unemployment insurance, and pensions
The insurance policy from the standpoint of practitioners, regulators, and consumers
Insurance law and regulations
All areas of risk management including financial, technical and intellectual property
Actuarial science and its current applications to financial engineering
Archival and historical material
Including an introduction defining risk management and describing its use in the insurance industry and the field of actuarial science, this resource is a must for every reference collection.
---
Dewey Decimal & Library of Congress Classification
Author: Christina Neigel
Softcover
ISBN 978-0-88802-342-1

Price: was $ 49.00 now selling at $29.95
Christina Neigel's much anticipated publication An Introduction to Dewey Decimal & Library of Congress Classification Systems: A Workbook is now available for distribution. Ms. Neigel states that "this book presents and introduction to the two major North American systems of classification" providing "readers with the foundational skills to build basic classification notations and recognize their meaning and significance when using existing library records."
---
Demystifying Copyright 2nd Edition
Author: Jean Dryden
Softcover
ISBN 978-0-88802-2340-7

Price: was $ 30.99 now selling at $ 19.95
The guide is intended to provide concise accessible information about Canadian copyright law for those who conduct research in Canadian libraries and archives in order to understand how copyright works and how to apply the rules to particular situations. The term 'researcher' includes all those who consult the resources of libraries and archives for any purpose, whether the outcome is a dissertation, a family tree, a school project, or the answer to a question of personal interest. The librarians and archivists who serve researchers will also find it useful when responding to questions about copyright; however, the guide does not cover the administration of copyright matters in a library or archives.
---
IFLA Adventure
Author: Judith Saltman, Dan Gillean, Jamie Kathleen McCarthy, Myron Groover, Jack Unrau, and Rachel Balko
Softcover
ISBN 978-0-88802-339-1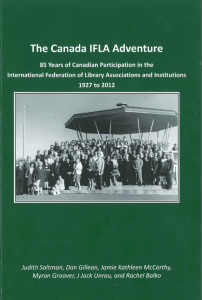 Price: was $ 35.95 now selling at $ 19.95
Discover for yourself this unique manuscript chronically
Canadians involvement with IFLA for the past 85 years
with profiles including Elizabeth Morton, Erik Spicer,
Guy Sylvestre, Harry Campbell, Marianne Scott and culminating
with the first Canadian President to IFLA, Ingrid Parent.
85 Years of Canadian Participation in the International Federation of
Library Associations and Institutions1927 to 2012. 
---
The Night Gardener
Author: Jonathon Auxier
Hardcover
ISBN 978-0-670-06772-5

Price: $ 19.95
Note: This is a signed copy by the author. Limited quantities remain.
When orphaned Irish siblings Molly and Kip arrive to work as servants at a creepy, crumbling English manor house, they discover that the   house and its inhabitants are not what they seem. Soon the siblings are confronted by a mysterious stranger and the secrets of the cursed house will change their lives forever. This much-anticipated follow up to Jonathan Auxier's exceptional debut, Peter Nimble and His Fantastic Eyes, is a Victorian mystery in the tradition of Washington Irving and Edgar Allan Poe. The Night Gardener is a mesmerizing read and a classic in the making.
---
This One Summer
Author: Jillian Tamaki and Mariko Tamaki
Softcover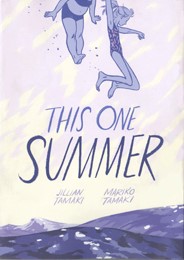 ISBN 978-1-59643-774-6
Price: $ 18.95
Note:  Limited quantities remain.
Rose and Windy are summer friends whose families have visited Awago Beach for as long as they can remember. But this year is different, and they soon find themselves tangled in teen love and family crisis. From the creators of Skim comes an investigation into the mysterious world of adults.
---